136 N Main St

West Bend, Wisconsin 53095

United States

t: (262) 334-2836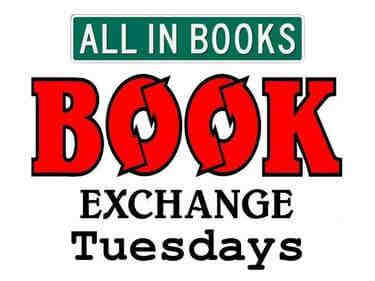 We started selling on the Internet in 1999. We believe in customer satisfaction! We specialize in books, but have from time to time sold everything from WWII war rations to Children's Games to V-belts and much more! All In Books is run by Mike and Betty, and their family. From our family to yours, happy sales!
In 2011 we established our business name as All In Books. We have now opened our own store and are very excited to be bringing used books to our community.
Our store is located in West Bend, WI. We will special order books! New books added daily. Home of Book Exchange Tuesdays, bring in two books, get one free!
Our goal is to find homes for homeless books, to recycle the books, and to make our books happily read.
One of the main questions we are asked is do we buy books?
No we do not, unless the price is very good.
What sort of books do we accept?
We are interested in all topics and genres. Remember, when accessing your used books for trade, we consider condition and our current stock levels. We do accept DVDs, CDs, records, cassette tapes, and video games.
The books we do not accept for trade under any circumstances are
Reader's Digest condensed books, encyclopedias,
dictionaries (depending on the time of the year),
VHS tapes and absolutely nothing pornographic.
We reserve the right to refuse any book, DVD, VHS, or other item.
The All In Books Trade Club:
We have temporarily discontinued our Trade Club program. What does this mean? We will temporarily not be taking books for In Store Credit. We have so many books we need to go through, so many projects we want to do at the store, so at the moment we will be focusing on this. Notice will be given when the program will resume. Your in store credit is still available for purchases. This does not effect Book Exchange Tuesdays, as this program will continue.
Home of Book Exchange Tuesday:
Bring in two books, get one free (similar value).
One offer per person, per Tuesday.
Two hard covers is equivalent to a free hard cover,
two soft covers is equivalent to a free soft cover,
two DVDs is equivalent to a free DVD,
two paperbacks is equivalent to a free paperback,
two records is equivalent to a free record, and so on.
Restrictions:
Cannot trade for new books from local authors or gift merchandise.
The book must be found on the day of trade,
any other restrictions may apply,
up to ten free books on Tuesday only.
Hours of Operation:
Tuesday - Thursday 10 A.M. - 6 P.M. Central Time
Friday 10 A.M. - 7 P.M. Central Time
Saturday 10 A.M. - 4 P.M. Central Time
Closed Sunday - Monday
Yeti Adventure Scavenger Hunt:
All In Books is proud to be sponsoring the Yeti Adventure Scavenger Hunt,
Saturday, 29 April 2017!
There will be prizes, goody bags for the kids, and All In Books will have a booth with kids books to keep you entertained at the finish line!
All In Books


Promote your Page too